Looking for a solution to convert PST file to PDF with attachments? Also, do you want a quick and cost-effective solution to export Outlook PST to PDF format? So, read this article.
Microsoft Outlook is used by most organizations for official business purposes. It basically saves Outlook files in PST file format. There are several industries that want to export PST files to PDF format to meet their needs and requirements.
Also, we have received many questions from users about how to export Outlook emails to PDF. So we are here to provide you with the right knowledge and the right solution to open Outlook data files in your documents.
User Request to Convert PST File to PDF
"I have a Windows Live Mail PST file stored on my system and I want to transfer the PST to PDF document in the future, so I am looking for a solution to convert the Outlook file to PDF format. I tried some manual solutions, but I can't find the perfect way. Can anyone tell me the perfect solution? "
Reason Behind Why Convert Outlook PST File to PDF?
There are many reasons why users need to export Outlook emails to PDF format. follow the steps below.
PDF files are portable and can be transferred to any device.
This is the most secure form and provides password protection for all emails.
Document files are cross-platform independent and easily accessible from any device, including desktop, mobile, tablet and iPad.
Some organizations use the PDF file format for presentations and reports.
Portable files can be password protected, but PST files cannot be password protected.
Platform-independent PDF files are easily accessible from any device.
PDF files are very portable.
Manual Technique to Convert PST File to PDF
MS Outlook has built-in features. With this method, you need to select each message that you want to move in PDF format. Follow the steps below.
First you need to Run the Outlook Application
Then double-click the email you want to save as a PDF
The next step is to open the selected email
Then click the File tab and select a print option. In Printer, this option appears on the HPFCCC40 (Hp Deskjet 3540 ..) by default
Select the drop-down arrow >> Microsoft Print to PDF option to perform the conversion
> Print to Microsoft PDF ">
Then click the print option again
Select the PDF format in the File Type option. Press the Save tab to complete the process.  Click the [Save] button
Finally, you can export the Outlook file as a PDF document
Why the Manual Method Failed?
The manual process is long and complicated. Novice users cannot understand the process. They need the help of technical experts.  It solutions can carry the risk of data loss.
Quick Technique to Convert PST File to PDF With Attachments
One of the perfect utilities is the MailPro+ PST to PDF Converter Tool created to export Outlook data to PDF format. This tool is specially designed for exporting multiple PST formats to PDF. This is a standalone utility and does not require any additional technical guides or other installations. It can exports emails and include attachments without hassle. It also provides users with advanced search options for searching specific emails from large databases. This is an advanced program for exporting data by preserving the structure and format of email. It comes with an easy-to-understand interface for easy, quick and instant export of emails from PST to PDF files.
Note: This is a trial version of this app and will only export a few emails. You can use this demo version to test this app. You can then easily purchase a software key to activate your solution.
How to Use this PST File to PDF Conversion Software?  –  Steps
The software has three modes: single file, bulk mode, and Find options for uploading the desired file to the software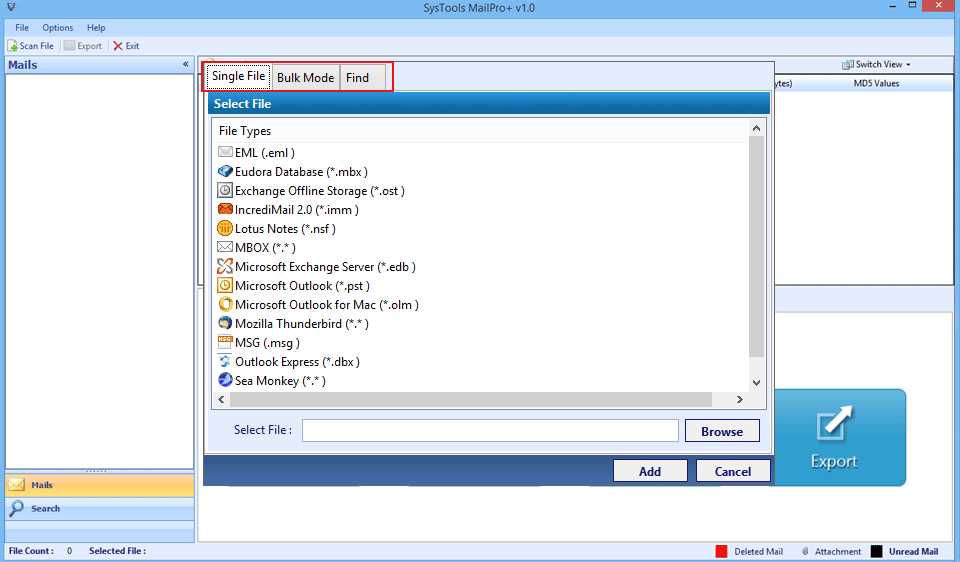 Then select the file you need to export and right-click to open Export or select the Export button on the navigation bar to export the selected folder to the desired file format
Choose from the PDF file formats to start the conversion process
Conclusion
Therefore, we have covered the simple steps to convert PST file to PDF documents directly in bulk. There are several solutions given on the Internet but I suggest that you go ahead with this utility as it saves the user a lot more time and effort. The overall working of the software is easy to use and provides a good descriptive interface which will be easy for both technical and non-technical users.